2023-10-11 - New design templates for the Advent Calendar application Follow
Do you want to offer a special experience to your brand's customers for Christmas?
Take advantage of the Advent to increase the visibility of your brand and foster loyalty.
Entertain your followers and reward their loyalty by creating a completely customized Advent Calendar. Users will enter every day to interact with the brand: they will be able to enter a daily raffle, try to win a direct prize in a prize wheel, compete in a Memory Game, Knowledge Trivia, etc.
You will be able to determine what prizes to give, as well as the way in which they will be given: direct prize for everyone by participating daily, by random drawing, giving prizes based on Instant Wins, probabilities, etc...
To make your work easier, we have designed three templates to begin from an Advent Calendar that is already assembled. It will come with 24 windows and a festive design, which users will open, one window each day, until Christmas. You only have to customize the calendar with the company logo and images and create the prizes that you want to give to users.
Enter here to see more information about the features of the Advent Calendar.
To start configuring your Advent calendar and using one of the Christmas templates, you just have to log into your Easypromos account Create a new promotion and Select the Advent Calendar application.
The available templates designs are the following: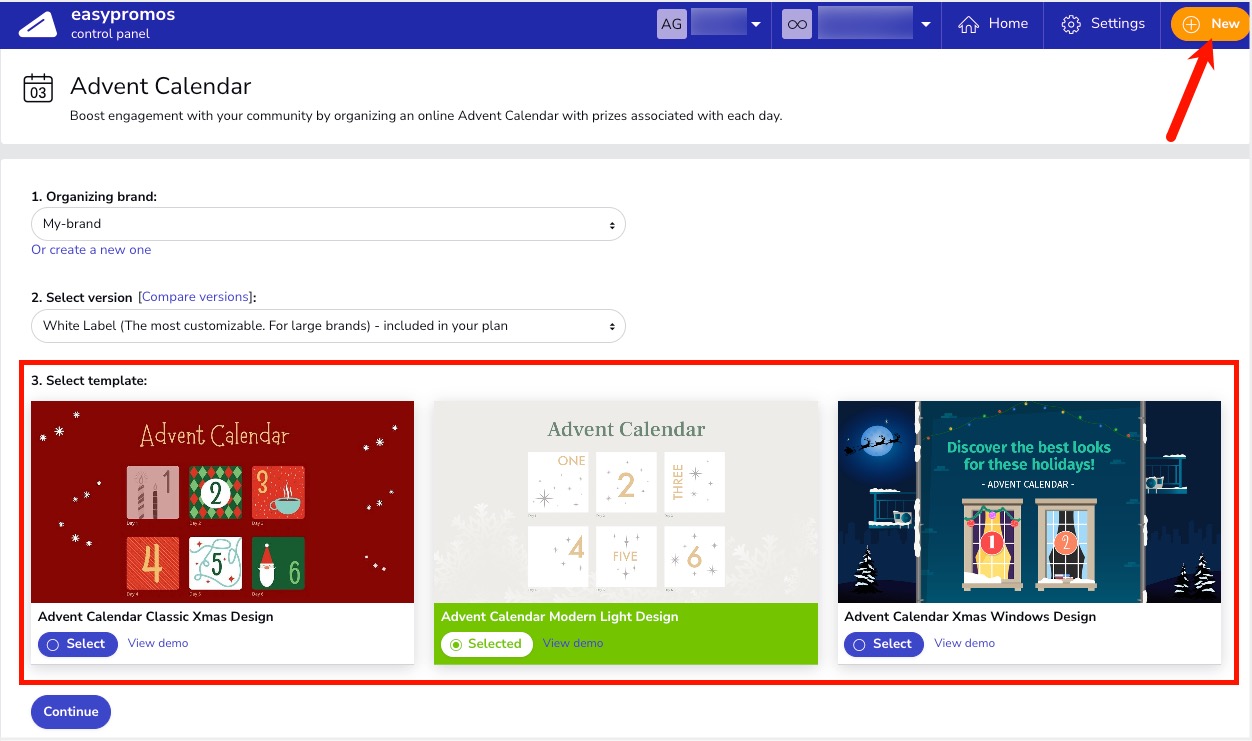 Each template comes with the following pre-configured options:
24 windows, each one will open one of the 24 days of Advent.
Number of participation in each window: 1.
Participation with the dynamic "Check-in": the user enters simply by clicking on the day window. You can change the dynamics to create a daily game, present a prize wheel, test user's knowledge with a Quiz, etc...
Generic designs and images, without references, that can be kept or replaced by your own images.
Check out our tutorial to see how to personalize your Advent Calendar step by step.