2023-02-20 - Update: New design of the Easypromos administration panel Follow
On February 20, an update has been applied to the platform in which a new design of the administration panel has been implemented.
The Easypromos platform constantly evolves in its quest to incorporate our users' demands and to adapt to new available technology. We constantly strive to adapt and continue to be competitive and in the forefront of our field.
As a consequence, for the last year we have been working on a strategic project that entails a new architecture for the whole administration panel. The aim of this new layout is to increase coding efficiency and reliability of all the processes involved.
This update has brought about a change in the design of the administration panel. All the options and functionalities are in the same place, however, some changes in the appearance that do not affect the operation are evident. Nonetheless, these changes go beyond the visual aspect and into the internal architecture of the control panel.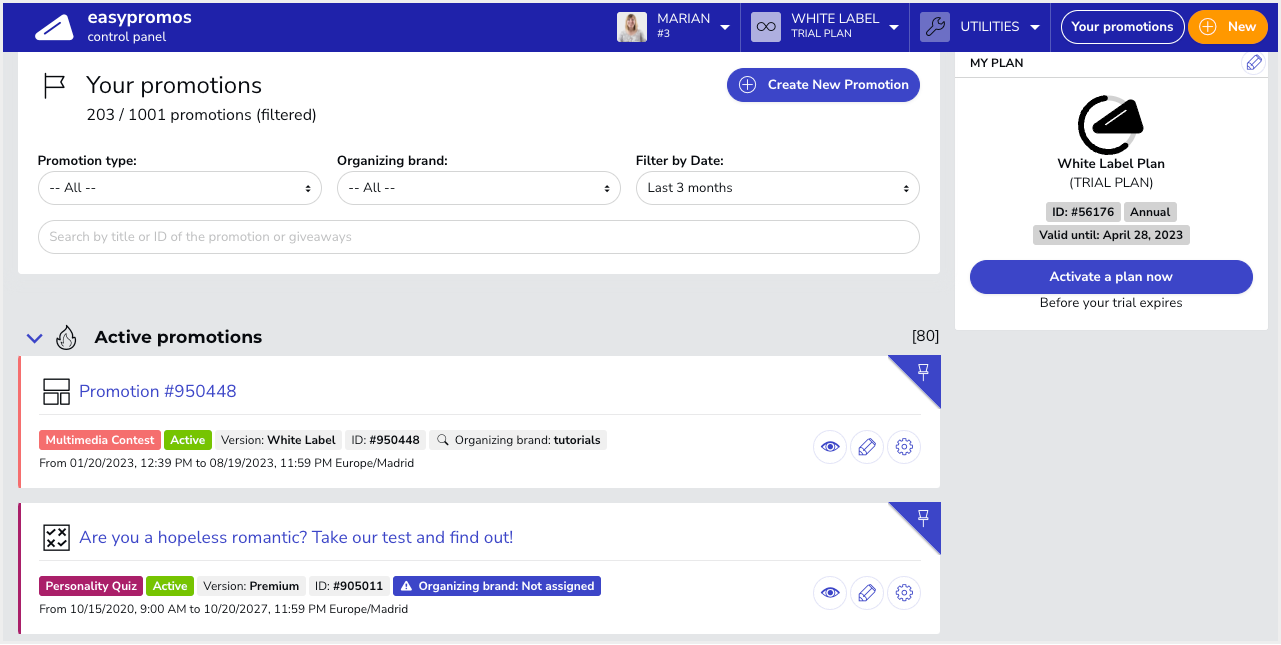 The update includes:
New design of the control panel:

In line with Easypromos new branding.
Style standardization of all elements.

New internal architecture of the control panel:


Facilitates programming new functionalities.
Increased reliability in promotion management.
Increased maintenance and incidence solving efficiency.
Provides a standardized design for all functionalities.

New functionalities on top of the new architecture:

New functionality in the Reveal&Win app: The user has to scratch a card to find 3 prizes.
New mobile phone login method with SMS validation (COMING SOON).
New product template: Entry Form Giveaway with login that allows to manage participation frequency: daily, weekly, etc. (COMING SOON)
The update in the control panel has brought about the reprogramming of the following modules:
Integrations Section: estandardized integration management regardless of the supplier.
Widgets section: update of the entire module with use recommendations.
Statistics Section: improved loading times, optimization project for promotions with high data volume, new visualization charts.
The update also entails the elimination of the following functionalities:
Tagging system.
Groups of promotions.
Facebook lead ads.
Widget media.
At Easypromos we are all excited about this new launch since, as much as we love to design new functionalities with the participants in mind, it is equally important for us to provide a positive experience to the control panel users. We believe it should be fast, intuitive, reliable and easily updatable. And just like our marketing team says: All of it in line with our new branding! :-)
Note: The new control panel has been verified for the following browsers and versions:
CHROME starting at version 57.
SAFARI starting at version 14.
EDGE starting at version 12.
FIREFOX starting at version 52.
OPERA starting at version 44.