2023-03-02 New: "Entry form Giveaway" application now available with the Login system Follow
Until now, the "Entry giveaway" was generated as a form that allowed a registration in a single step: to participate, the users only had to fill in the registration form page with their data, and after completing it, their participation was already registered in the promotion.
From now on, administrators will be able to create an Entry form giveaway using the Login system, which means that the registration process will be done in 2 steps:
In this way, when generating your entry form giveaway, you can select which participation flow you prefer in the first screen of creation of the promotion.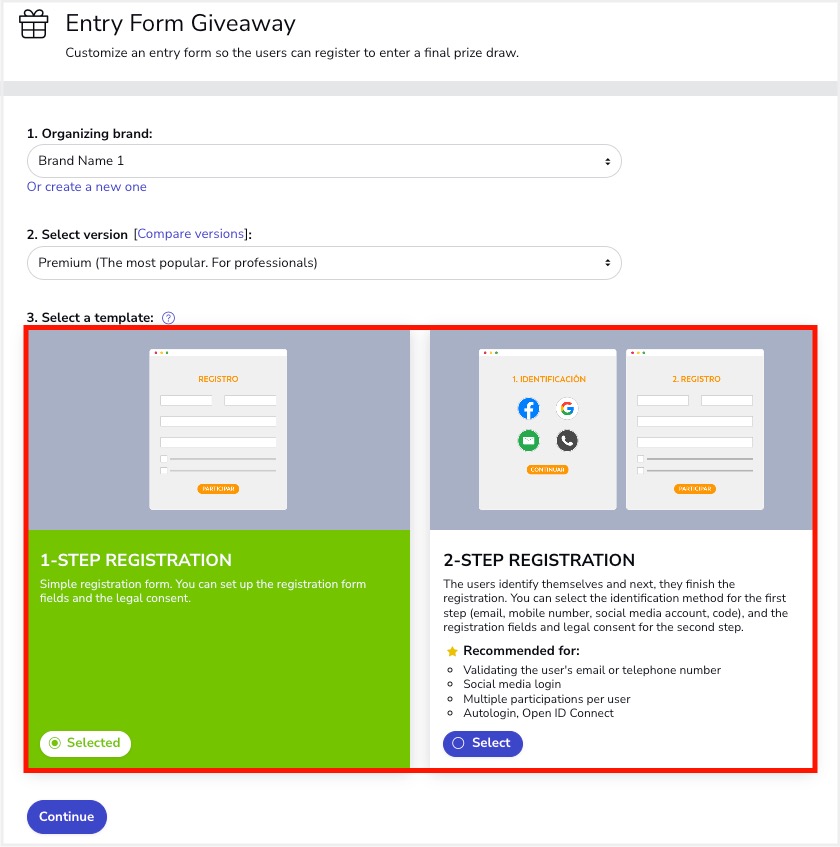 When is the 2-steps registration recommended?
Allows

quick identification via social networks

: Facebook, Google, Twitch and/or LinkedIn.

Optimized system for email verification. The user will not confirm the participation and see the final screen until the email is validated.

Allows the use of the

2.0 Emails and notifications platform

.

Allows you to enable the Requirement page to request the user a complement to the participation, such as uploading a purchase ticket or validating a code.

Supports user identification built into your own system (for instance, via

Autologin

).
Note: The 2-Steps registration is only available in the Premium and White Label versions of the platform.