2023-06-12 - New delivery condition for direct prizes based on the "Purchase Receipt sum" Follow
A new feature was uploaded to the platform, allowing administrators to condition the distribution of prizes depending on the amount spent by clients. Specifically, the delivery condition can be applied to prizes of the "On participating" type, in promotions where users must upload a purchase receipt to participate. This new condition allows a prize to be awarded each time the user sums a certain amount among the purchase receipts that they have uploaded in the promotion.
Note: This new prize delivery condition is only available for promotions with the "upload a receipt" requirement enabled. In addition, the promotion must have the automatic ticket validation system activated through OCR (only available in the White Label version) and have the validation based on "Receipt amount" condition enabled.

How does this new condition work?

This new condition is available for promotions that require the user to upload purchase receipts as a requirement to participate. In this way, the client will be able to participate with different tickets, indicating the amount of each one of the receipts. When the sum of the different tickets uploaded by the client reaches the amount indicated in the condition, the user will be assigned a direct prize (the prize must be created using the "On participating" prize type).
Example: Clients win a direct prize for every $100 spent in the store. To do this, the user may participate in the promotion by uploading different purchase receipts, each time indicating the specific amount of their receipt. The user will accumulate tickets, and when the sum of all the tickets reaches the amount of €100, the client will be assigned and receive a direct prize.
How to enable the new condition?

This new delivery condition is only available in promotions created in the White Label version and that have the requirement to upload a receipt enabled. In addition, the automatic validation of the ticket via OCR must be activated, together with the validation of the tickets based on the receipt amount.
You can enable these options as shown below:
1. From the editor of your promotion, enter the Participation section.
2. Enter the Requirement tab.
3. "Do you want to add a participation requirement?": select the "Upload a receipt" option.
4. Mark the "Check the receipt against the OCR" checkbox then click the "Edit Settings" link.
5. Mark the "Enable conditions based on receipt amount" checkbox.
6. Create a validation condition, based on the amount of the receipt uploaded by clients.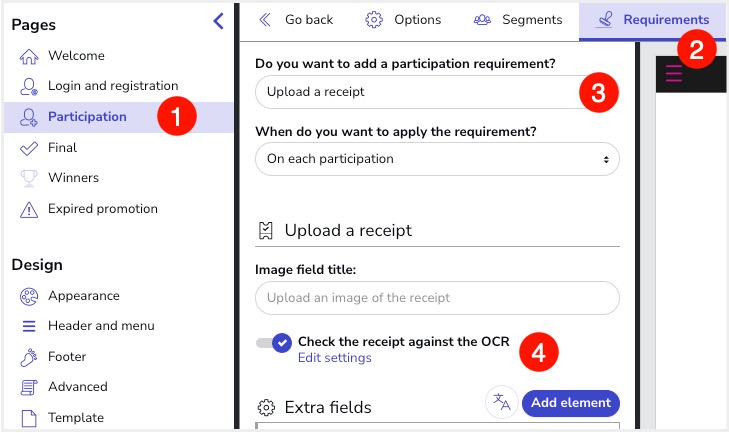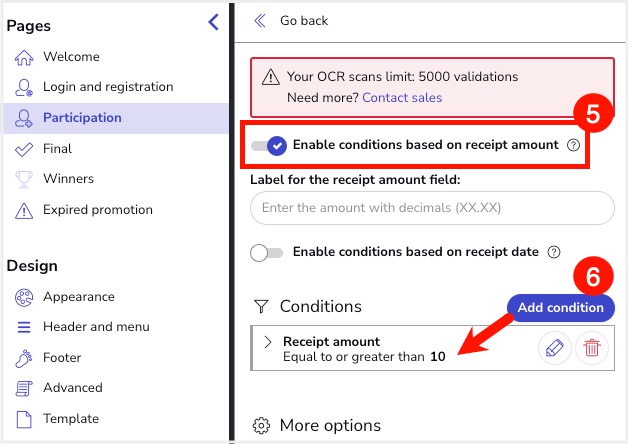 Once the automatic validation via OCR and based on the ticket amount is enabled, the new condition can be applied to prizes of the "On participating" type, from the "Delivery conditions" tab of the prize: