2023-10-13 - New feature: change the participation stage type in your promotion Follow
When creating a promotion with Easypromos, the campaign always comes pre-configured with the corresponding stage, which is the specific participation mechanic depending on the application you selected, whether it is a Prize wheel, a game, a Survey, etc.
In the specific case of the "Advent Calendar" and "Digital Coupon Book" applications, these come pre-configured with "Check-in" type stages, that is, the user participates simply by clicking on each stage. Both applications work with the Multistage system, which allows different promotional mechanics to be included in the same promotion, not just check-in type stages. Until now, if the administrator wanted to change the stages, they had to delete the existing ones and create them again, thus losing the pre-configurations that came with the stage (image, texts, settings, etc.).
A new functionality has been added that improves the creation and customization process of these two applications: the possibility to change the stage type. Therefore, it is now possible to change the check-in type stages that come by default for another type of stage (a Puzzle, a Scratch and Win, or a Survey, for example), with the advantage that the name of the stage is preserved. stage, as well as the image of the stage, the dates and frequency of participation. If the stage had a requirement configured, it will also be maintained.
This new functionality is only available in the following cases:
To modify the type of promotion stage, you must access the Editor > Participation Stages section and click on the following option: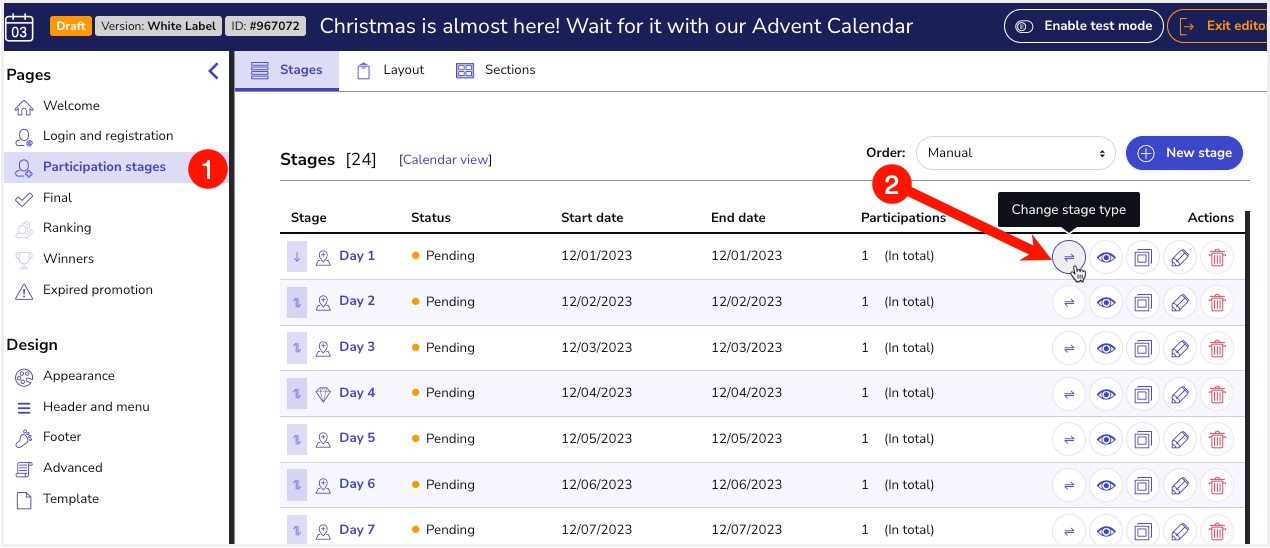 When you click, the list of the different stage types available to make the change of dynamic will open: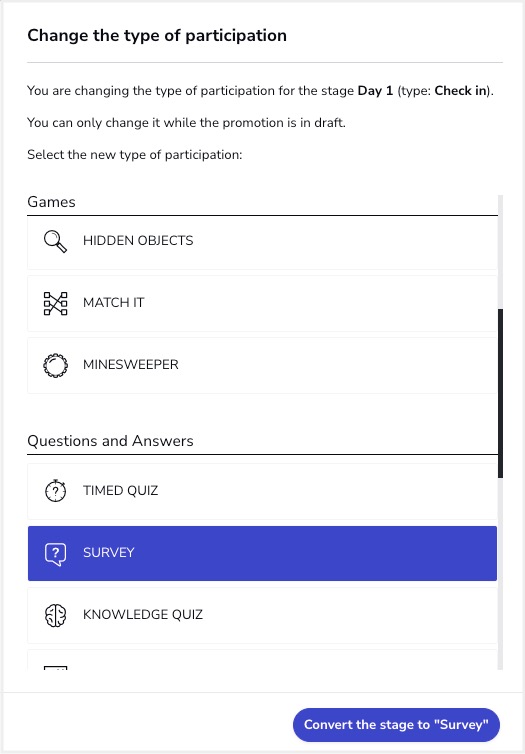 Specifically, you can edit the dynamic of the stage to the following types:
Games: Puzzle, Word search, Memory, Slide&Match, Word Shuffle, Hidden objects, Match It and Minesweeper.
Questions and answers: Timed Quiz, Survey, Knowledge Trivia, Personality Test and Lottery.
Direct prizes: Scratch & win, Spin the Wheel and Reveal & win.
Others: Check-in and Descriptive Content.