Changes to the Instagram API - April 5, 2018 Follow
On April 5, 2018, Instagram sent a notification to all developers about changes that eliminate capabilities of its API effective immediately, that also affect applications and features offered by Easypromos. In this article we explain the changes that affect our platform.
IMPORTANT: Instagram has applied the changes without previous notification to the developers. Instagram announced these changes in January, 2018 with dates set for July 31, 2018 and December 2018, so that all applications would have time to adapt and inform their clients. Instagram has applied these changes effective immediately to keep the platform and the users' data secure.
This is the notification from Instagram: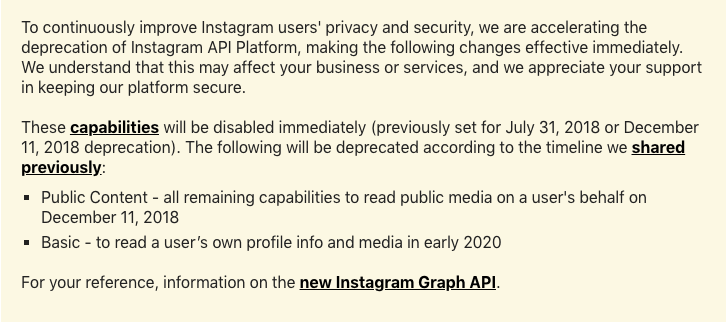 News from Facebook and Instagram:
APPLIED CHANGES:
1. FILTER TO EXCLUDE NON-FOLLOWERS IN INSTAGRAM SWEEPSTAKES ELIMINATED
It's no longer possible for apps to know if a user is following an Instagram profile or not. That's why we've eliminated the filter from the exclusions.

2. IT'S NO LONGER POSSIBLE TO RUN COMMENTS-BASED SWEEPSTAKES ON INSTAGRAM FROM PERSONAL PROFILES
With this change, it's no longer possible to retrieve the comments from posts on personal Instagram profiles. Only business Instagram profiles can use the Instagram Sweepstakes tool.

3. PROFILE PICTURE AND FULL NAME WILL NOT BE SHOWN WITH PHOTOS AND VIDEOS IMPORTED IN HASHTAG CONTESTS
With the change to the Instagram API, in the Hashtag contests where public content is imported to the app using the campaign hashtag, we only receive the user ID and a direct link to the public profile. It's not possible to show the profile picture in the gallery of the Hashtag contest.
4. IN HASHTAG CONTESTS THE FEATURE TO SEND A COMMENT TO THE PARTICIPANT'S POST FROM THE APPLICATION HAS BEEN ELIMINATED.
It's no longer possible to send comments as a business profile to the users that participate in a photo or video contest on Instagram with a hashtag: