Why are there less comments imported than what I see on Instagram? Follow
In order to import the comments on an Instagram post published on a business profile, apps like Easypromos need to connect to the Facebook API to be able to retrieve all the comments.
However, there are two possible cases where the Facebook API doesn't give access to retrieve all the comments, which results in a difference between the number of comments that Easypromos has imported for the giveaway and the comments that Instagram show in the post.
Note: We recommend that you take the step of importing the comments from a laptop computer instead of a mobile device, and make sure that you don't lose connection and you don't close the browser.
Below we explain these two cases in detail:
1. Replies to comments on the post
Comments that users make on a post are considered first level comments and can be obtained through the Facebook API. But replies to comments are considered second level comments and are not provided by the API. However, Instagram adds these second level comments in the comment counter that shows on Instagram.
In this screenshot you can see an example of replies to a comment on a post that can not be imported to the giveaway: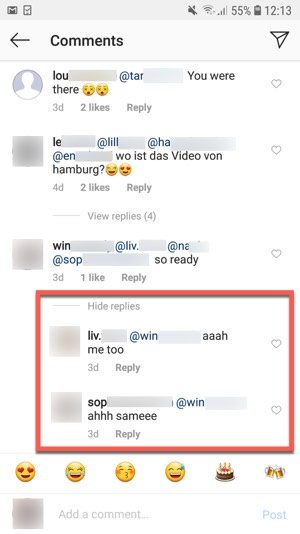 2. Comments coming from sponsored posts
By default, the Facebook API allows to import comments made on the organic post. If the post has been sponsored, comments that are made on the sponsored post are not automatically included. However, Instagram adds the comments made on the sponsored post in the comment counter that shows on Instagram.
Solution: With the "Multi-Network Giveaway" you can add the comments coming from sponsored posts by selecting the Facebook Ad. Learn how to do it in this tutorial.