New functionality to prevent generic emails from being sent to your lead lists Follow
An update has been added to the platform that affects the integrations of Hubspot, Campaign Monitor, Zendesk Sell and Active Campaign, and which allows you to prevent generic emails (for example, emails with domains such as gmail, hotmail, yahoo, outlook, etc.) from being sent to your lead lists.
This option is specially designed for B2B campaigns where we want to make sure that only corporate emails are sent to our lists.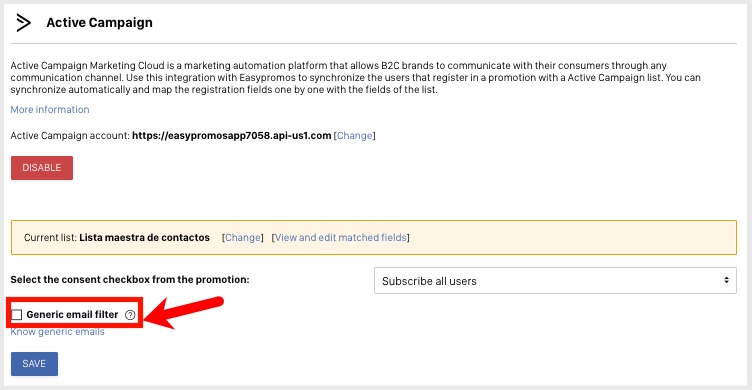 The generic emails that will be filtered when enabling this option are the following: gmail, hotmail, live, yahoo, outlook, aol, icloud, gmx, ymail, mail.ru, yandex.ru, me.com, bk.ru, outlook, telefonica, googlemail.com, libero.it, mac.com, yandex.com, rocketmail.com, iprimus.com.au, luxusmail.org, msn.com, comcast.net, getnada.com, inbox.lv, qq. com, seznam.cz, westnet.com.au, protonmail.com, windowslive.com, onet.pl, vrisko.gr, bluewin.ch, btinternet.com, comcast.net, protonmail.com, kabelmail.de, iinet. net.au, orange.fr, walla.com, bigpond.com, list.ru, mail.bg, web.de, rambler.ru, naver.com, aim.com, virgilio.it, onet.eu, laposte. net, abv.bg, sol.dk, privat.dk, telenet.be, wp.pl, y7mail.com, email.cz.
In this way, you can allow users who have an email with any of these generic domains to participate in the promotion, but by checking the box "Filter generic emails", the emails of these users will not be sent to your Hubspot lists, Campaign Monitor , Zendesk Sell, or Active Campaign accounts, and you will only receive in your leads the data from users who registered with corporate email domains.