2022-06-30 - New feature available: Add an internal reference to your prizes Follow
A new feature has been added, which allows you to add an internal reference to the prizes that you configure. The aim of the internal reference is to help admins of promotions to distinguish internally those prizes that at a public level have the same name, but actually represent different types of rewards.
Practical example: Different prizes with a unique public name "Movie tickets" are created. Each prize corresponds to a different date/film projection. In this way, each type of prize has a different downloadable PDF associated with it, showing the exact details of the projection the winner is invited to. In order to distinguish the different prizes internally, the administrator can now put a different reference to each prize, and identify them easily.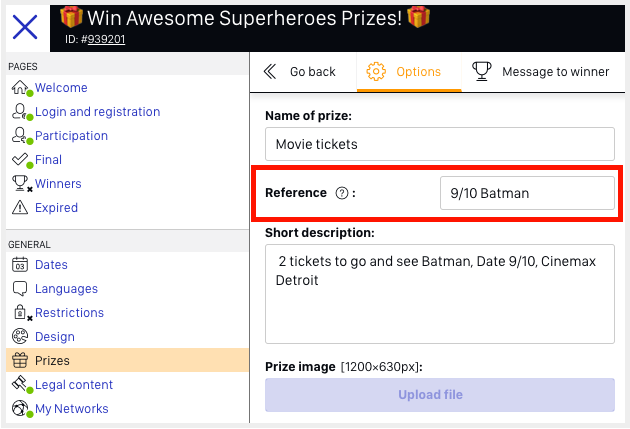 The internal title will be visible in the following sections:
In the list of prizes inside the Editor (Editor > General > Prizes).
In the User Manager: For users who have won one of the prizes, the internal reference of the prize won will also appear:

In the CSV file with the information of the winners of the promotion.

In the prize information via API. It is also possible to pass the information from the prize's internal reference field via API, (available in corporate accounts).