Tutorial: How to publish a promotion Follow
Once you have created and activated the promotion, it will be published in a microsite whose URL is the main link to the promotion that you will find on the main page of the promotion in your control panel: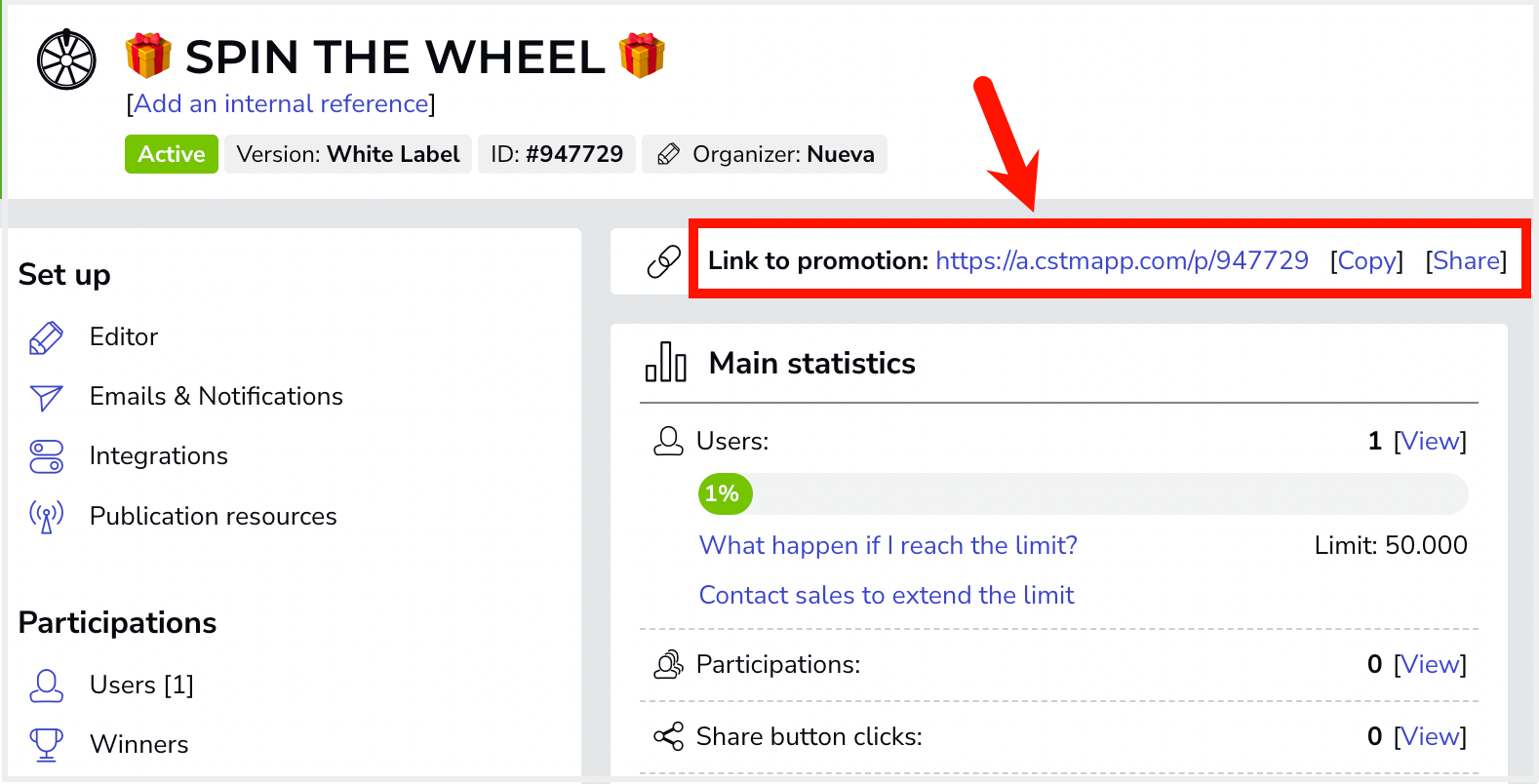 Take into account that the promotion won't be visible before the publication date and it will disappear when the end of publication date is reached.
As soon as the promotion is displayed, you can start disseminating the campaign in order to get participants. In the "Publication resources" section you will find all the options for this task: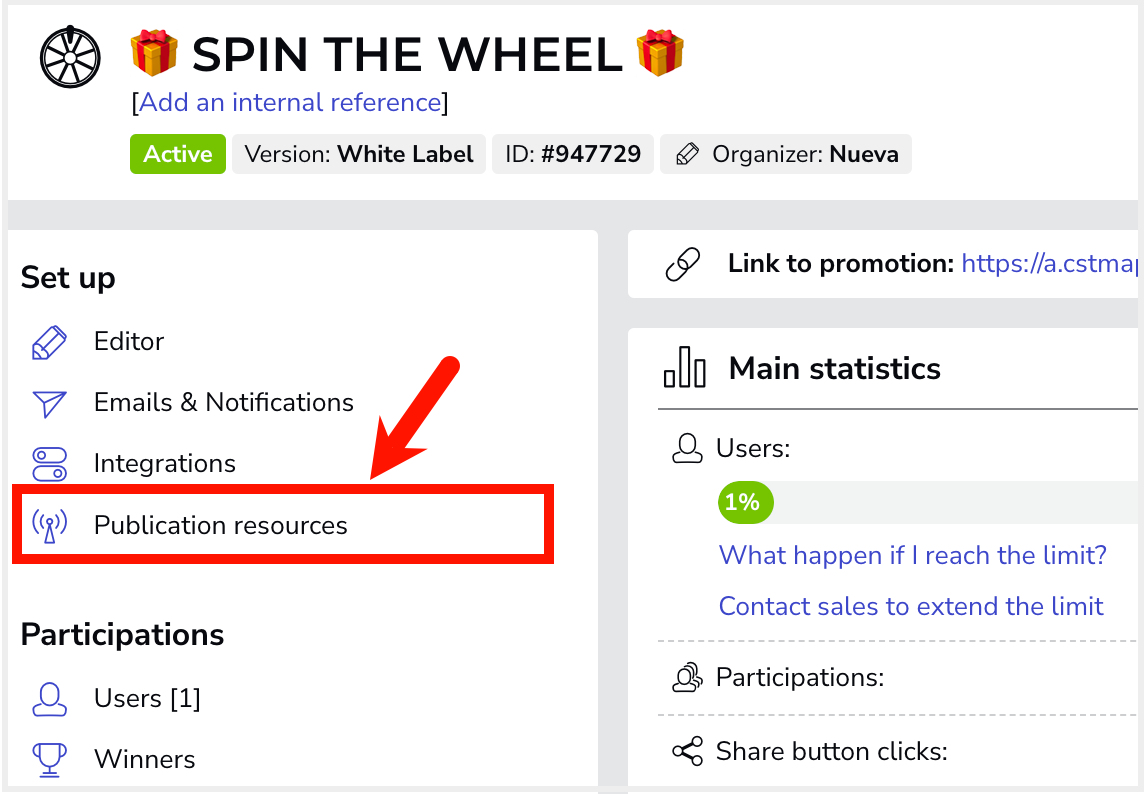 The main way to disseminate a promotion is by copying the main link and communicating it across your channels. In the "Publish" section you will be able to copy this link too.

You will also find the following options:
Install the promotion as a widget on your webpage or blog
The promotion can also be displayed on your blog or website by using the widgets system. If you are interested in this method of publication, here you have the information to embed the promotion into your site. There are four types of widgets, depending on how you want to present the contest on your site:
Embed your promotion.
Widget link.
Widget Popup.
Widget media (available when the public gallery is activated).
Discover all the available Widget types and learn how to embed your promotion on your website.
Set up the behavior of the promotion link
In the "Link settings" section you will be able to change the behavior of the main link of the promotion.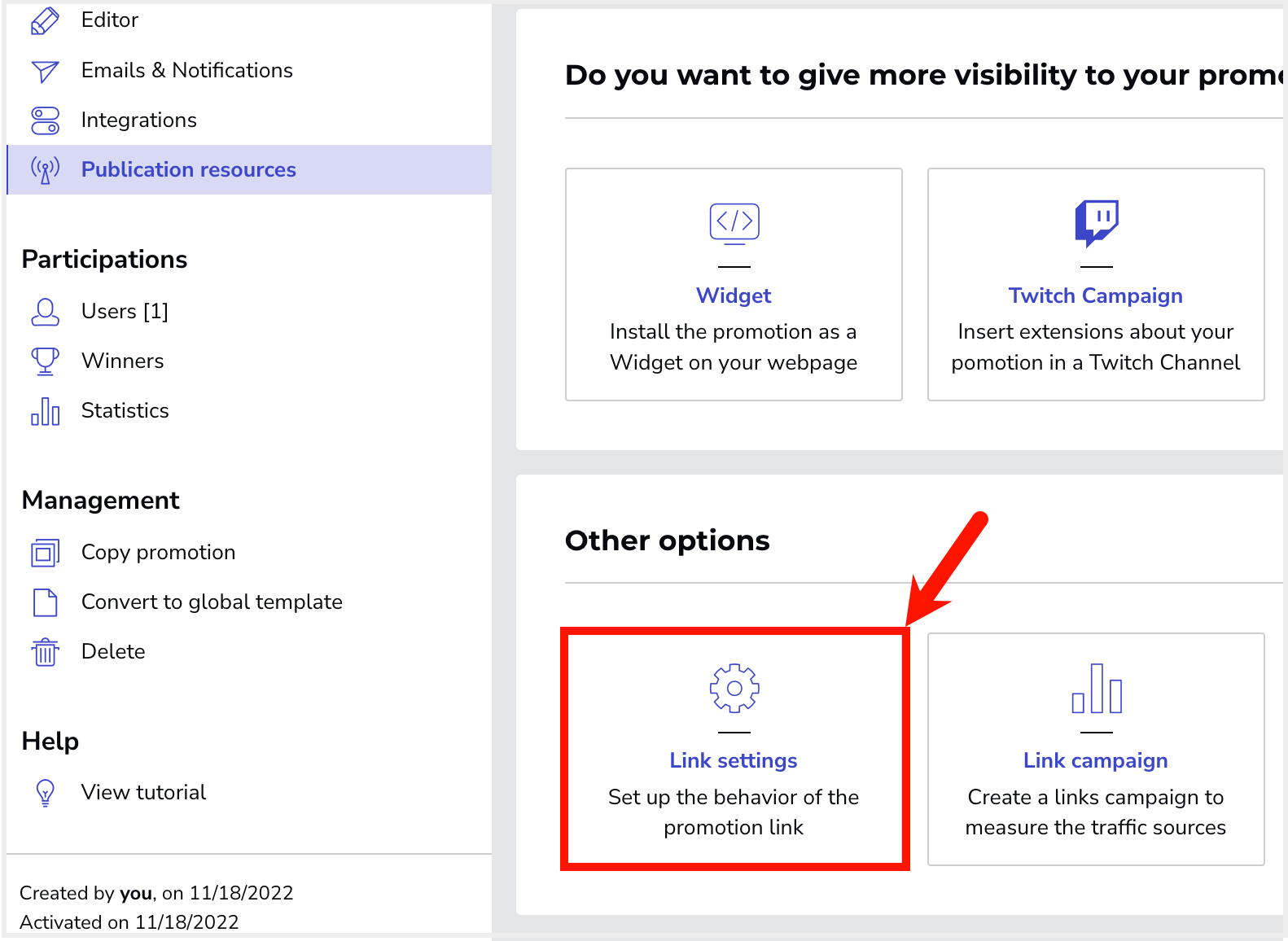 By default, the promotion is displayed as a web page (microsite) and the welcome page is presented as the target page. In this section you can modify these preset options to choose the most suitable configuration for your campaign.
First page showed when accessing the promotion. If you want to skip the welcome page, you can set up this option from the management page and participants will be able to access directly to the quiz, the entry form or the public gallery. Choose which will be the first page of your promotion, and it will always open on this page.

Destination of the main link.

By default, the promotion's main link shows the promotion within a microsite. From this option you can change the destination to direct to a Facebook tab if the promotion is installed there (participants from mobile devices will always go to the microsite because Facebook tabs are not available on mobile devices). The main link can also direct to an external site where the promotion is embedded.
Note: In White Label promotions you will be able to set up your own domain to publish the promotion. You can do this in Publish > Custom domain. More information.