Publication and Dissemination - How to protect your promotion with a password Follow
The "password protected" option that you can find in the promotion administration page serves to prevent the promotion from being viewed by anyone who doesn't know the password.
If you activate this option then the participants who visit your promotion page will be shown the following screen: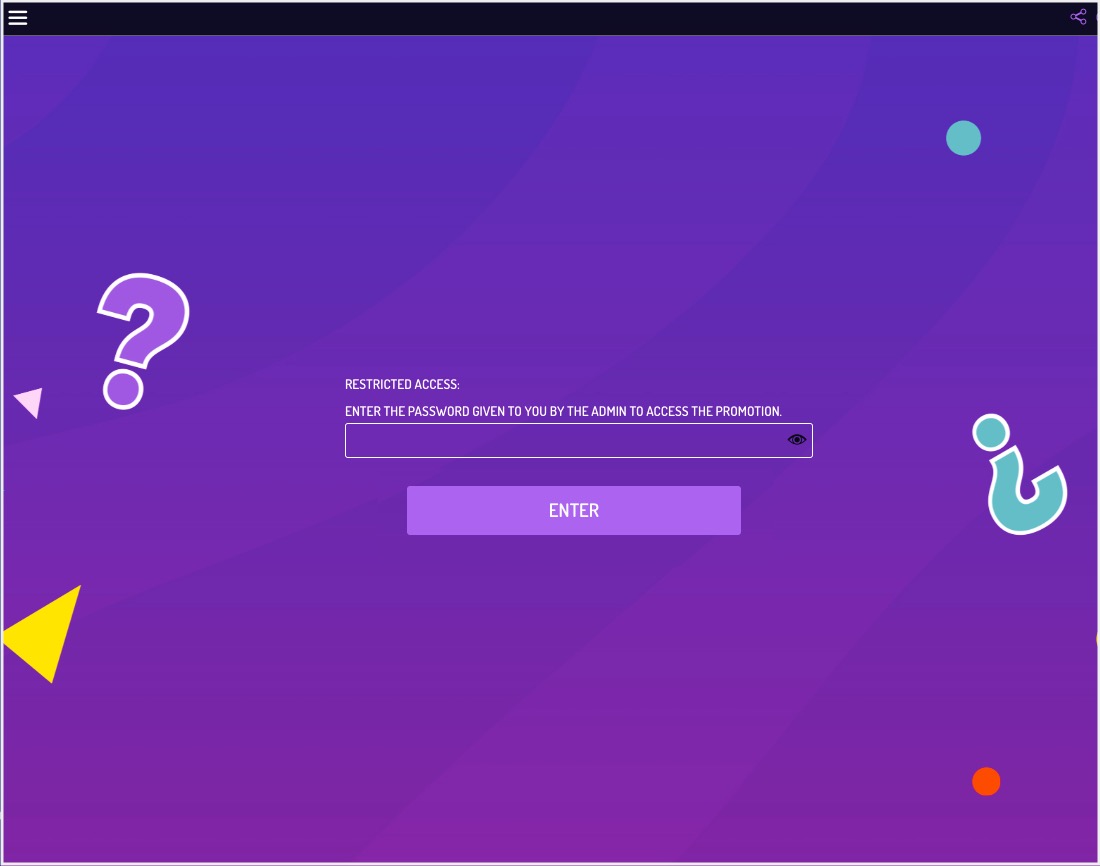 All users must enter the correct password in order to continue their participation and reach the promotion's home page.
Upon entering the password, the promotion protection portal will do one of this two actions:
- If key word is correct, user will enter to the promotion's home page automatically.
- If key is wrong, the following message will be shown: "The password is not valid"
How to set it up
The "Password protected" option can be enabled at any time from the administration page whether the promotion is at draft stage or already active. You will find it in Publication resources > Password.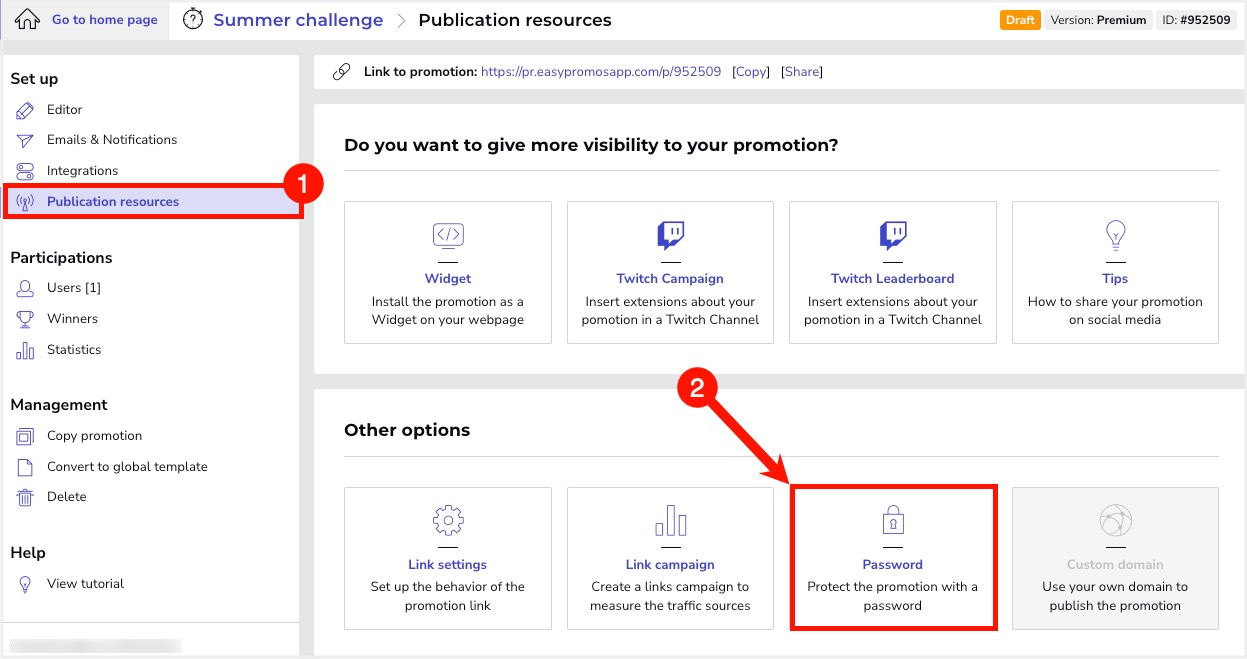 Clicking on "Password" a pop-up window will appear, giving you the chance to activate password protection.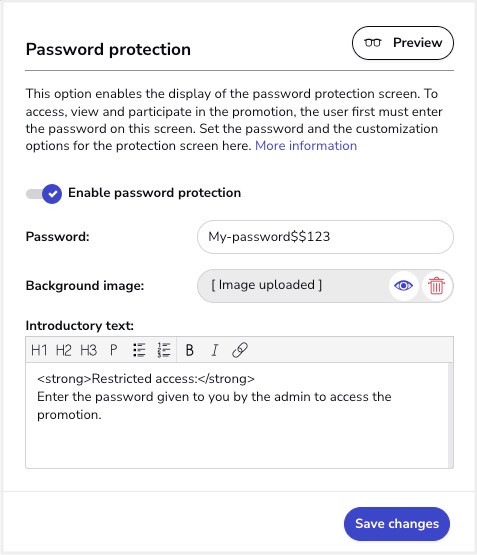 In the pop-up settings menu you'll find the following options:
Enable password protection: This box controls whether password protection is enabled or disabled.
Password: Enter the password here. It must be a single word between 1 and 15 characters. Numbers, letters and symbols are all accepted, but spaces are not.
Background image: Upload a background image for the password protection screen. The image will appear in the center of the screen. The image is configured with total repetition, so if the resolution of the display is greater than the size of the image, the image will be replicated to fill up the space that is left.
Introductory text: This is the text with which you should ask users to provide the password. It will be located just above the box where users then have to enter the password. HTML code is accepted in this field.
Example of use: to enter links to external pages where the participant can find and obtain the password if they don't already have it.
Can I preview the password protection screen?
Yes, once you have activated the password protection option from the promotion's set up screen, you will be given the option to preview it.
How to disable the promotion's protection portal
Enter the "Publication Resources" section. If the "Password" square is painted in blue, password protected is enabled.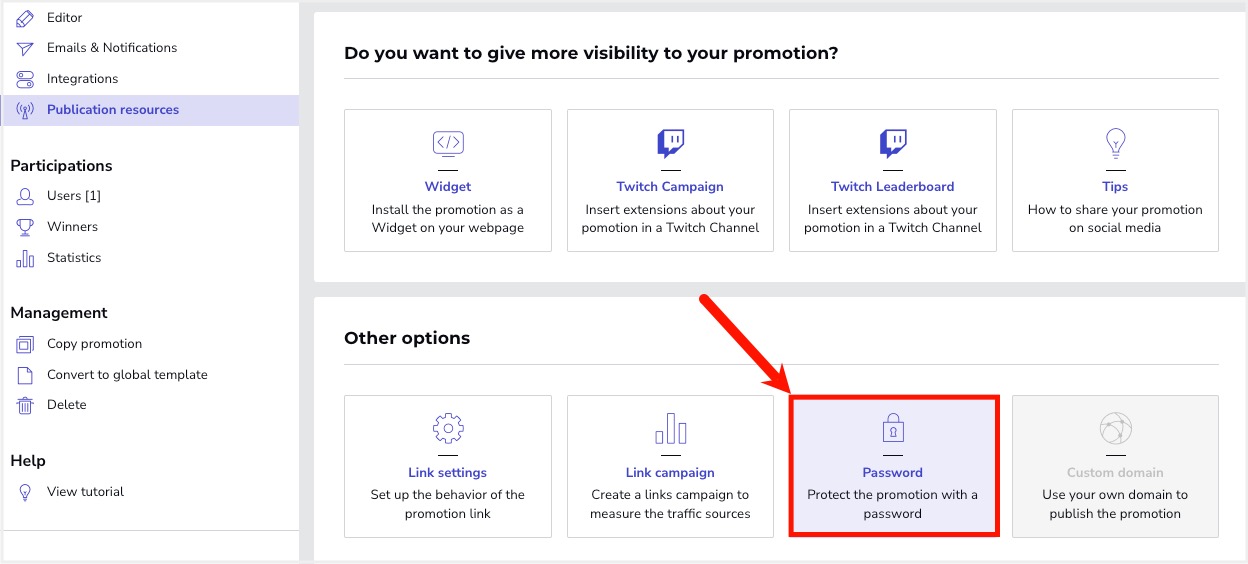 To disable it:
Click on "Password" and a pop-up menu will appear with the protection portal options enabled.
Un-check "Enable password protection" box.
Save changes.