How to insert Javascript or HTML code in the promotion Follow
Premium & White Label promotions have the option to insert Javascript or HTML code in the promotion.
The code will be added just before closing the BODY tag.


In the White Label version, you can insert the code in each of the promotion pages (Welcome, Registration form, Gallery and Final page).
To add the code in the promotion, follow these instructions:
1. Obtain the code that you want to insert.

2. Enter the 'Editor' of the promotion: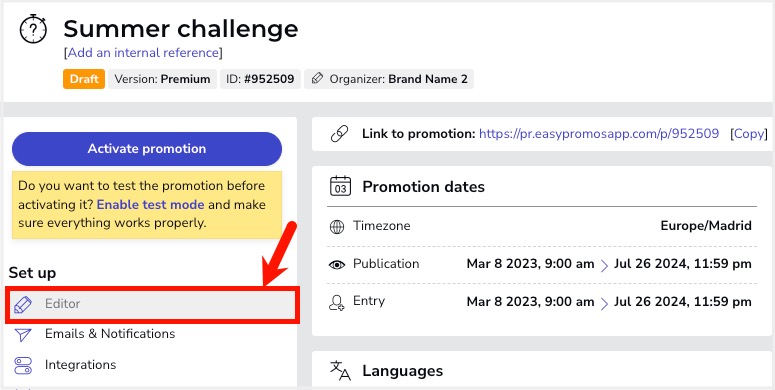 3. To insert the code, go to Pages > Final > Advanced > "Javascript, HTML and your own code" field: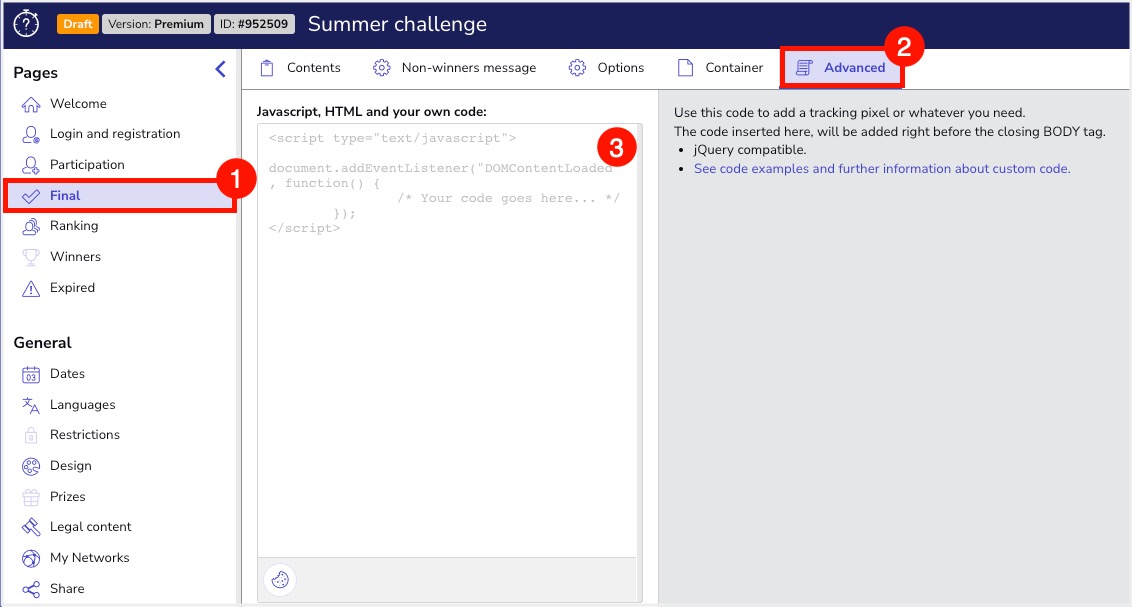 4. Paste the code in the "Javascript, HTML & your own code" field and save changes.
Do you need to add a tracking pixel in the promotion?
Premium & White Label promotions have the option to insert a conversion pixel from an advertising network (Facebook Ads, Twitter Ads, Google Analytics, Google Adwords) in order to measure the effectiveness of your campaigns. To do this, you can use the "Tracking Pixels" tool, which offers centralised management of the tracking pixels that are inserted in the promotion.
Important note: It is very important to keep in mind that the tracking pixels will only be displayed if the user has accepted the analytical cookies of the promotion. Therefore, before inserting the tracking pixels you'll need to enable the Cookies Policy in the promotion (Editor > General > Legal texts > Cookies Policy).
Find out more about the new Tracking Pixels tool and how to use it to manage tracking pixels in your promotion.