With 'Embed your promotion' widget you'll be able to embed the promotion into any website or blog to give your promotion more visibility and attract more users. The widget is installed in a website and allows visitors to enter the promotion directly from there.
This widget is available for all promotions that are created in Easypromos, no matter the version used - Basic, Premium and White Label - and works for any type of promotion or contest.
The user experience will be exactly the same as if they were participating from Facebook or microsite, that is, user will need to accept the application permissions, they'll be able to vote and share the promotion with their friends.
In addition, the "Embed your promotion" widget presents as its main advantage that it allows automatic management of the height of the widget in an external website. This way, the height of the widget will adapt automatically depending on the content that is shown in the promotion.
Once you have created the promotion, in order to embed the promotion into your website you can follow these steps:
1. Acces the Easypromos Dashboard.
2. Locate the promotion you wish to embed and click on the icon 'Promotion settings':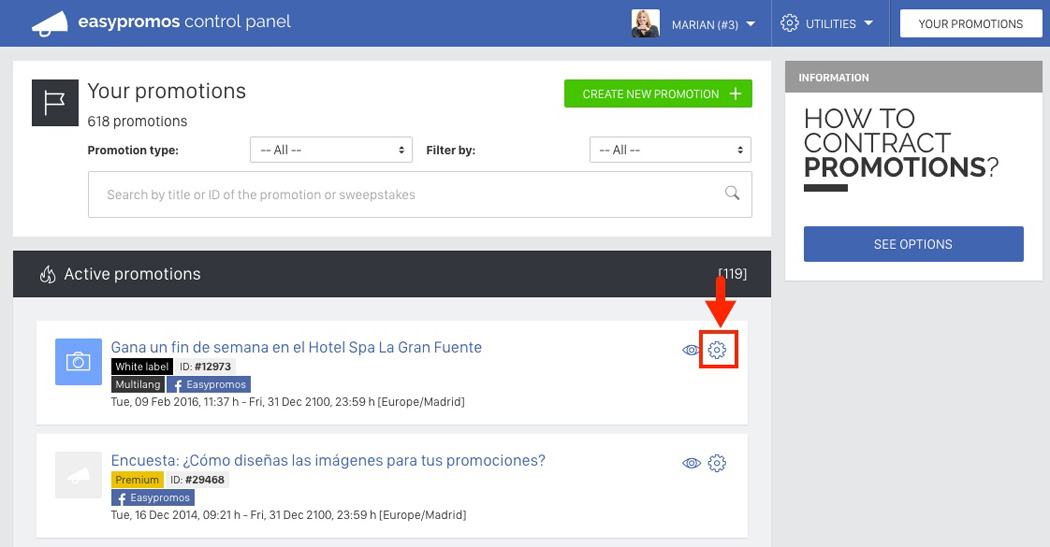 3. Once in the promotion's management page, select the 'Publish' section and click on "Widget" option: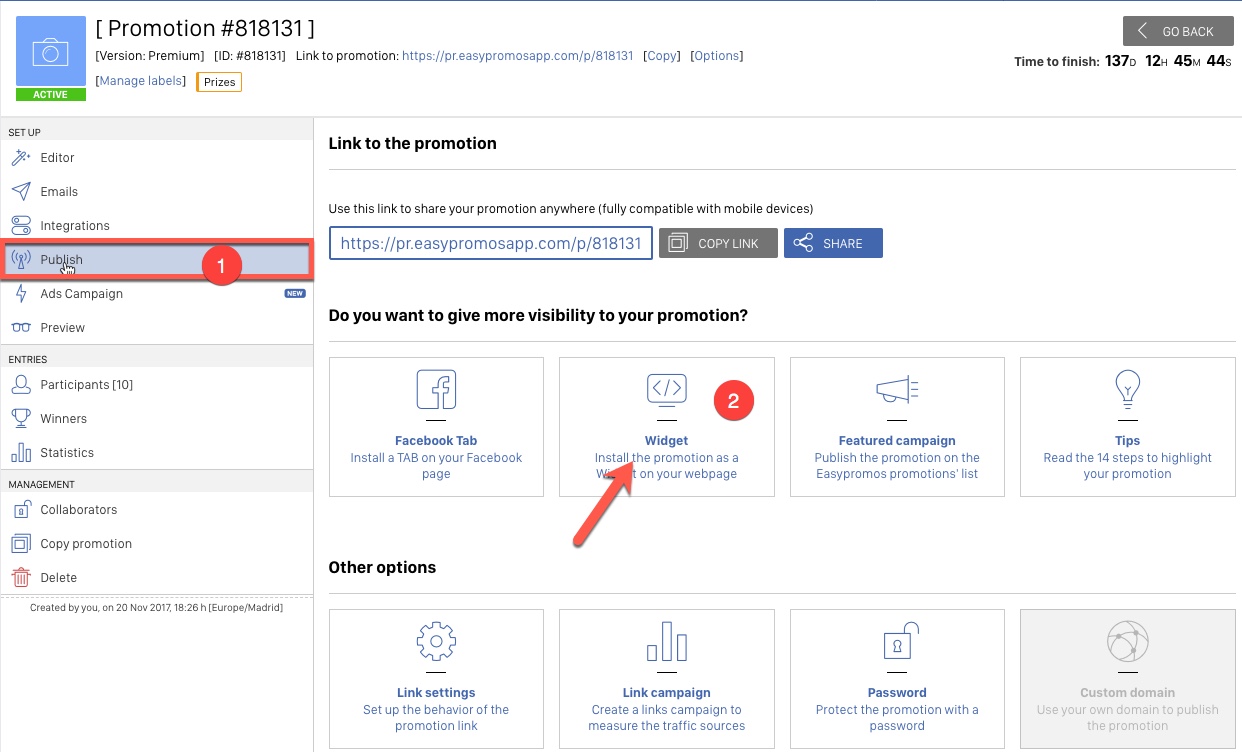 4. Customize the widget dimensions (width and height) to adjust the widget to the available space in your website. Then copy the iframe code and paste it in your website: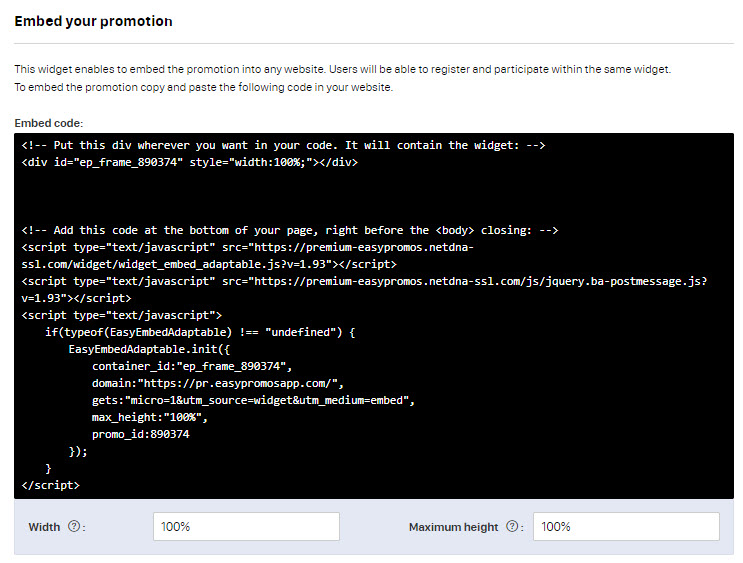 The widget presents the following features:
The widget automatically calculates the height of the iframe for an optimal visualization depending on the page of the promotion that is shown.
The optimal visualization means not showing the scroll bar in the iframe and avoids blank space at the bottom.
The pop-ups inside the promotion (Share, terms & conditions, My Networks) are placed better in the visible area of the iframe.
In addition, the widget code allows advanced configurations:
gets:"micro=1&utm_source=widget&utm_medium=embed",
			max_height:"100%",
GET parameters: allows to add customized GET parameters to the call to the promotion. Use this parameter to customize your UTM parameters or to force the language of the widget with the GET parameter "lc".

For example, in the following screenshot we show how to use the parameter

utm_medium = embed & lc = eng

to force the language of the promotion to English: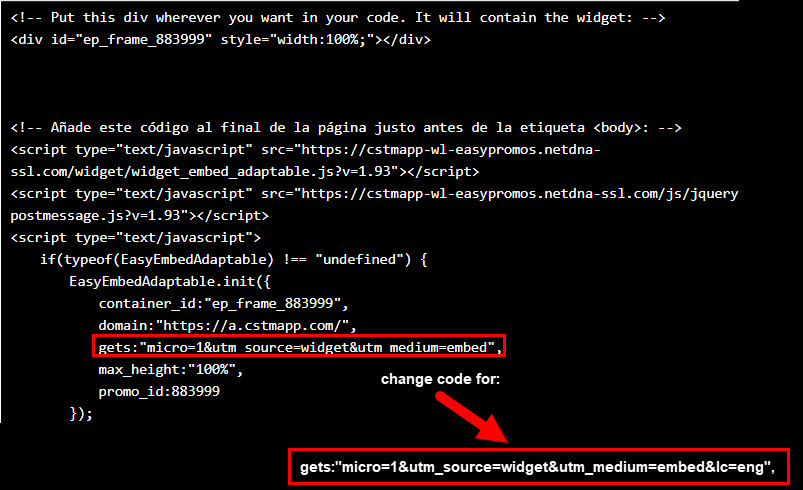 You can obtain the language codes by going to the promotion's management page and clicking on the "Options" window: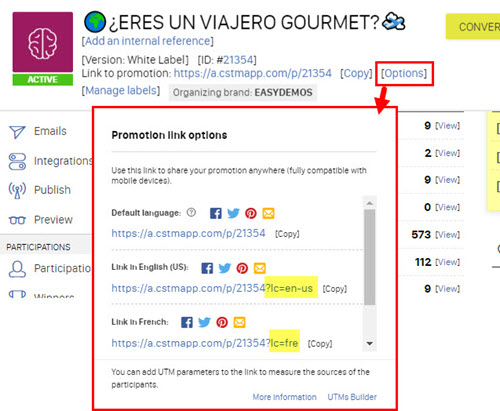 MAX-HEIGHT parameter: define a maximum height allowed for the widget. If the content of the promotion exceeds this height, the system will add a scroll bar to the widget.
5. Additionally, you have the possibility to configure the main link of the promotion to automatically redirect to the web page where you have embedded the widget. To do this, you must go to the Publish> Link settings section, where the option "Destination of the promotion main link" will appear, where you can select the option "Site where widget is embedded", which will allow you to enter the URL where you have embedded the iframe code of the promotion widget: