Why Can't I Run a Giveaway Between Everyone Who Shares a Post or Likes My Page? Follow
If you've found your way here you're probably creating your first Facebook Giveaway and have noticed that the tool doesn't allow you to run a giveaway between users who share a post on your Page or between your fans. Below we explain why.
This is actually one of the questions we get asked most. And the chances are you've seen some Facebook Pages that do require participants to share the post or like the Page in order to enter the giveaway. However, the fact is that Facebook doesn't allow these types of giveaways: forcing users to share content or like a Page is not permitted under Facebook guidelines. It is one of their rules for preventing spam and impeding fraudulent behavior. Facebook addresses this issue directly in point 3.2 of their Platform Policy which says:
Only incentivize a person to log into your app, enter a promotion on your app's Page, or check-in at a place. Don't incentivize other actions

To be more specific, "other actions", include forcing a user either to become a fan of the Page or to share content. More information.
In addition, point E.3 of Facebook's Promotion Guidelines explicitly states that neither sharing nor tagging may be considered requirements for participation:
Personal Timelines and friend connections must not be used to administer promotions (ex: "share on your Timeline to enter" or "share on your friend's Timeline to get additional entries", and "tag your friends in this post to enter" are not permitted).
You should also bear in mind that Facebook can deactivate your Page if you organize a giveaway asking users to share or become fans in order to enter, so we will NEVER recommend that you establish either of these two actions as requirements. And even if Facebook doesn't notice, you run the risk of your own participants or competitors reporting you for breaking the rules.
But it's not all bad news!
OK, so you're not allowed to require users to share your promotion; however we can confirm that 54% of participants share a promotion even when not required to do so. This statistic, together with the increase in visibility generated by participants commenting on or liking a post, means that Pages will inevitably gain more fans during a promotion. Below, you can see a graph displaying the level of fan growth enjoyed by a variety of Facebook Pages after running giveaway between participants who have liked or commented on a post. The graph is based on a study of more than 5,000 Facebook giveaway.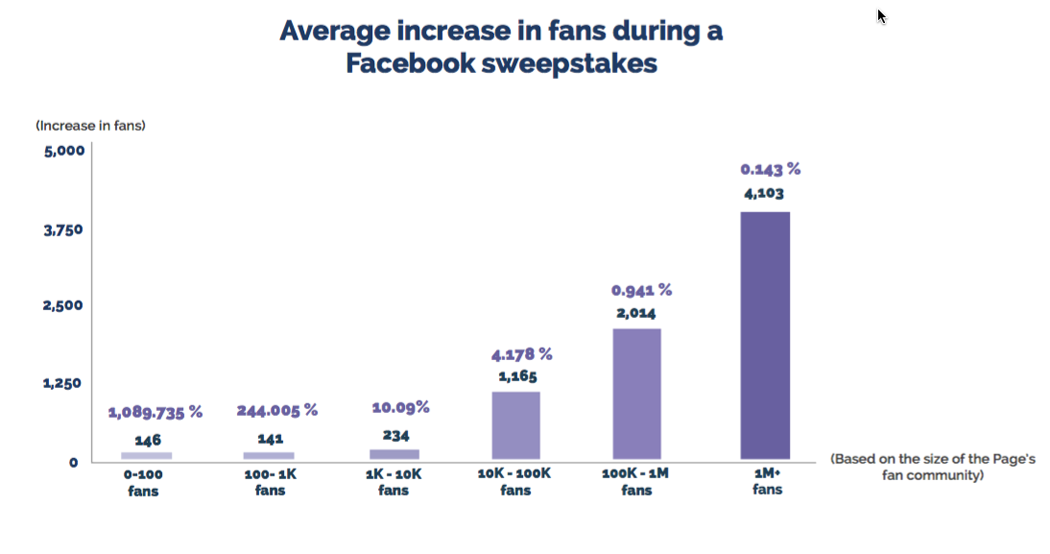 So we know that you can't oblige users to like your Page or share your post, but there are techniques which can help you achieve the desired effect. Would you like to find out what these are? Keep reading and we'll tell you how to make the most of your promotions with the aim of increasing your fan numbers and viralizing content.
First of all, identify your current situation:
A. I've already published the giveaway post to my Facebook Page and now I need to find the winners
If you've already published the giveaway post and now need to obtain the winners, you can run the giveaway using our platform. The tool will allow you to carry out one of the following two types of giveaway:
A giveaway between all users who've commented on the post.
A giveaway between all users who've liked the post.
However, the tool won't allow you to run the giveaway between users who've shared the post or liked the Page.
We suggest you bear this rule in mind when organizing your next giveaway, to ensure that it runs smoothly and in accordance with Facebook guidelines.
Tutorial: Learn how to create your first Facebook Giveaway step-by-step.
B. I still haven't published the giveaway on my Facebook Page and I'd like some advice on how to go about it properly.
If you still haven't published your giveaway, we suggest you follow these steps to help you increase the number of fans of your Page:
1. My Page doesn't have many fans and I want to generate more likes.
If you've just launched your Facebook Page, or if you simply wish to give it a boost to help your community grow, we suggest this article containing 17 tips for writing your giveaway post:
17 tips on how to write a post for carrying out a Facebook Giveaway.
In the above article you'll learn how to create a giveaway encouraging users to share and like your Page while complying strictly with Facebook Guidelines.
In addition, the article includes all the points you need to address to communicate the giveaway to your users effectively, as well as practical ideas and templates for you to use in your own promotion.
2. I have a page with over 5,000 fans and I want to consolidate my community
If your Facebook Page already has a large fan base, but your aim is to keep growing your community, Facebook Giveaway can improve your engagement with fans while expanding the reach and visibility of the content you post.
If you're already familiar with online promotions and you wish to give a boost to your community, we suggest you compliment your strategy with the following two dynamics, designed especially for Pages that want to take that extra step:
a) Recruiters Contest: Sharing mustn't be obligatory, but you can encourage participants to share the promotion with their friends to try and get them to enter and obtain more opportunities to win the final giveaway. This is the essence of a Recruiters Contest and it is a mechanism that is 100% valid in Facebook.
b) Voting Contests: Organize a photo, writing or video contest, activate voting and encourage voters to become fans of your Facebook Page. According to data collected from real promotions, voting contests achieve a rate of up to 46% fan conversion.
Are you ready to try out these dynamics? Find out all the details of each type of promotion and organize your contest in minutes!