2021-04-15 - The collaborator system is deprecated and will disappear on September 1, 2021 Follow
IMPORTANT UPDATE
On September 1, 2021, the collaborator system for individual promotions will be eliminated and will be replaced by the Teams and Agents management system.
Specifically, the section that we indicate in the following image will be eliminated. This section allowed adding another existing account in Easypromos as a collaborator of an individual promotion.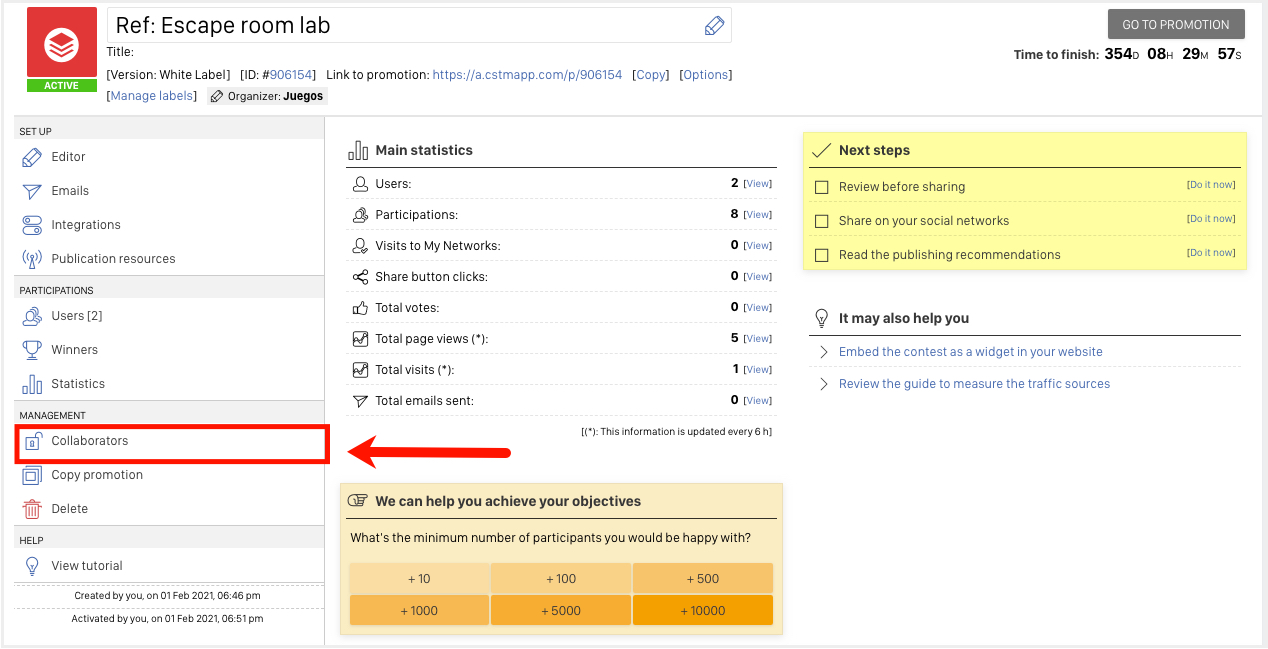 From what date is the functionality removed?
As of September 1st, 2021.
Should I have a plan to use the Teams and Agents system?
Yes, it is necessary to be subscribed to one of these 3 options:
A monthly or annual Premium plan

A monthly or annual White Label plan

An annual Corporate plan
If I activate a promotion individually, without a plan, can I use the Teams and Agents system?
No, it is not possible. If you want to add a coworker to help you set up the promotion, you will need to upgrade your account to a monthly or annual Plan, in order to enjoy the Teams and Agents system and add your colleague as a new account administrator.
Example:
You activated a Premium promotion for $125 USD, and you want to add a new partner. You need to upgrade the account to a monthly Premium plan ($199). You will only have to pay the difference: $74 Dollars.
How many members of my team will I be able to add?
We use the word "Agents" to refer to each member of the team.
By default the plans come with 3 agents. In other words, you can be the creator of the account and add 2 more colleagues.
Can I add more team members to my account?
Yes, in this case, please contact our sales team to get a quote for the total number of members you want to add to your account.
Can I assign different roles to the members that I add to the account?
Yes, it is possible

in accounts with an active Corporate plan

No it is not possible

for accounts with a

Premium or White Label plan

.
In accounts with a Premium or White Label active plan, it will only be possible to add members of the team with the role of administrator. The administrator role means that you have full access to all the promotions that are created in the Easypromos account. The Team system for these plans has been designed to add coworkers with the same role.
With a Corporate plan, the administrator can add new agents and assign administrator roles, or assign roles by account organizing brands. Organizer marks are promotions folders. In the Corporate plan, the administrator can create agents with access only to certain folders, and assign them the role of Manager, Editor, Creator or Analyst. The Agents and Team system for the Corporate plan has been designed for large brands or organizers, with distribution of teams by countries, with sub-brands, etc.
More information on how to manage agents, roles and organizing brands for Corporate accounts.
I will no longer be able to assign roles to collaborators for individual White Label or Premium promotion?
It will no longer be possible. Only clients with a Corporate Plan will be able to use the role system.
This change means that users without a Corporate plan who used a role system lose this option. The motivation for the change is (1) to be able to solve one of the most demanded requests, managing teams and co-workers at the account level and not at the promotion level, and (2) in this way not having duplicate functionalities.
How can I add an external collaborator to test my promotion without having to add him as an administrator of my account?
The promotions "Test mode" allows you to send invitations to external users to test the promotion. This functionality is ideal, to send the link of the promotion to a client before activating it, or an external collaborator to review the promotion. The test functionality is included as standard in any promotion of any kind.
More information on how to test a promotion and invite external collaborators.
What will happen on September 1st with the promotions that I am a collaborator of?
You will no longer be able to see them in your administration panel. You will only be able to see the promotions that you have created yourself.
Can I transfer promotions that I was not a creator of to my account before September 1 to have it centralized?
Yes, it is possible. Contact us, and we will analyze your particular case and help you find the plan that best suits you, and carry out the transfer of promotions. You can contact with us filling up the form you will find by clicking here
I have more questions, how can I contact you?
Write to us through this link, and we will be happy to analyze your case and solve all doubts with you.