Photo contests created with Premium and White Label plans now include the PhotoFun feature. It enables participants to personalize their photos with frames and stickers.
With the Premium plan, you can choose the frames and stickers you want from the Easypromos library. With the White Label plan, you can upload your own frames and stickers, so that participants use your logo, branding or theme.
This tutorial explains:
How users experience PhotoFun
To take part in the contest, users have to sign up at the link shared by the organizer.
Here's a demo (you can scroll and click around within the image):
How to enable PhotoFun
To add PhotoFun to your photo contest, follow these steps: 
1. Go to your promotion management page, and click through to the Editor.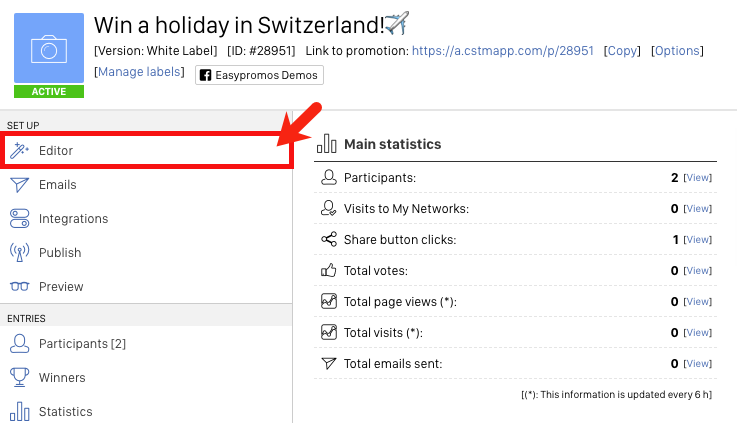 2. Next, go to Pages > Entry Form and click on the Media field. You'll see an option to enable PhotoFun: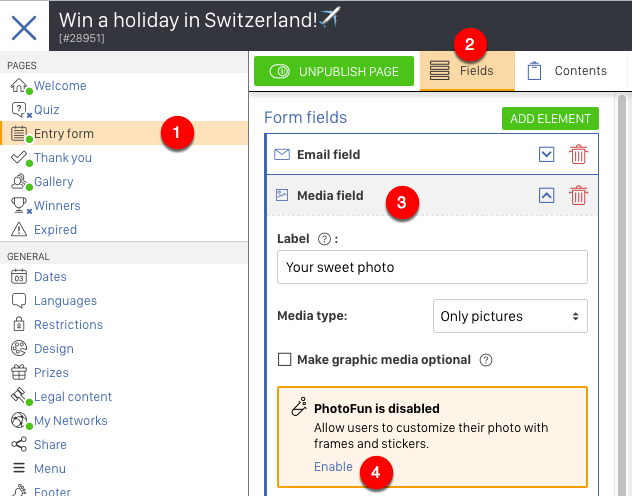 3. Once PhotoFun is enabled, click Edit to choose your photo format, frames and stickers.

4. A window will appear. You have three options for the photo format:
Square (800x800px)
Story (1127x2008px)
Post (1200x630px)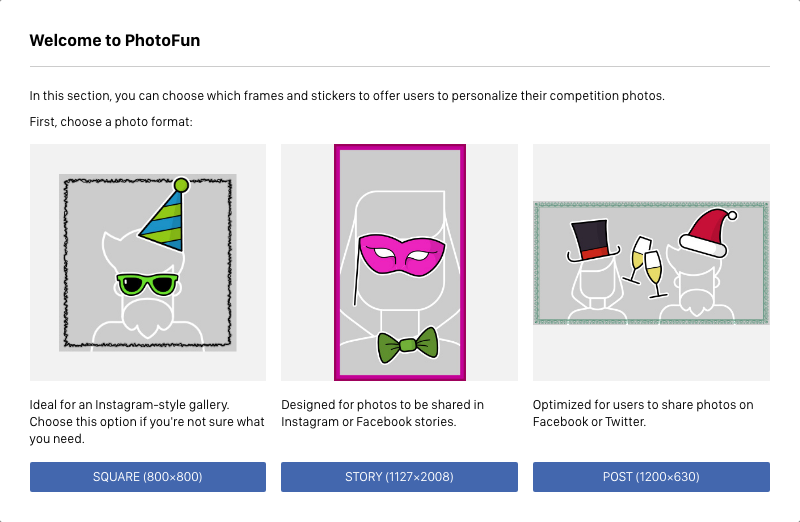 5. Next, you'll see the following tabs and options:
Stickers
In the first tab, you'll see all the stickers in the Easypromos library. Click on the different themes to see the full range of stickers. Choose which stickers will be available to users.
Frames
In the second tab, you'll find the frames, which are also grouped by theme. Click to see which frames are available for each theme. Choose which ones to use in your contest.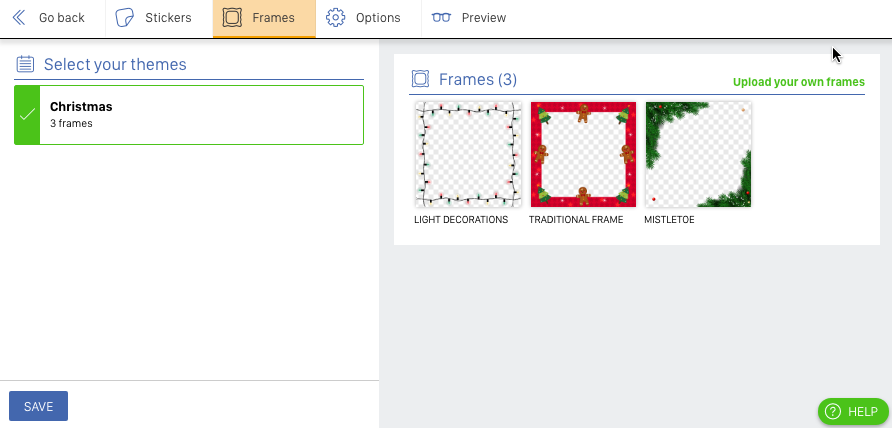 Options
In the final tab, there are even more options to personalize PhotoFun. Let's break them down, one by one: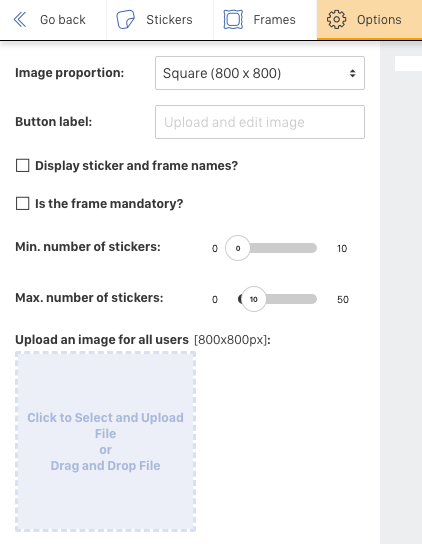 1. Image dimensions: You chose your image format in the first step, but you can edit it here as necessary.
2. Button label: Edit the text of the button which users see.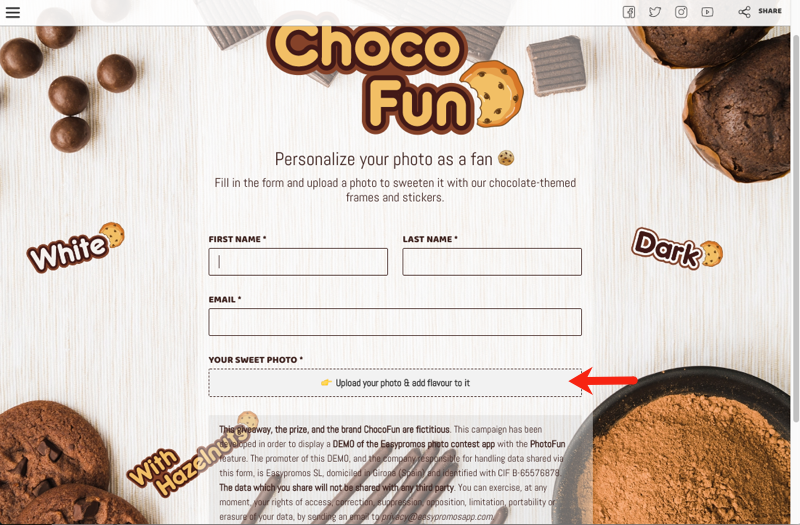 3. Display sticker and frame names? Decide whether users will see a title for each frame and sticker.
4. Is the frame mandatory? Require participants to use a frame for their photo.
5. Min./max. number of stickers: Define how many stickers participants can use. 
6. Upload an image for all users. Upload a single photo for everyone to use and customize. For example, you could upload a basic design template for users to fill in with frames and stickers.
Upload your own stickers and frames
With a White Label promotion, you can upload frames and stickers which you have designed yourself. Once you have created the promotion, just follow these steps:  
1. Enable PhotoFun and click on the Stickers tab.
2. On the right-hand side of the screen, you'll see Upload your own stickers, written in green text: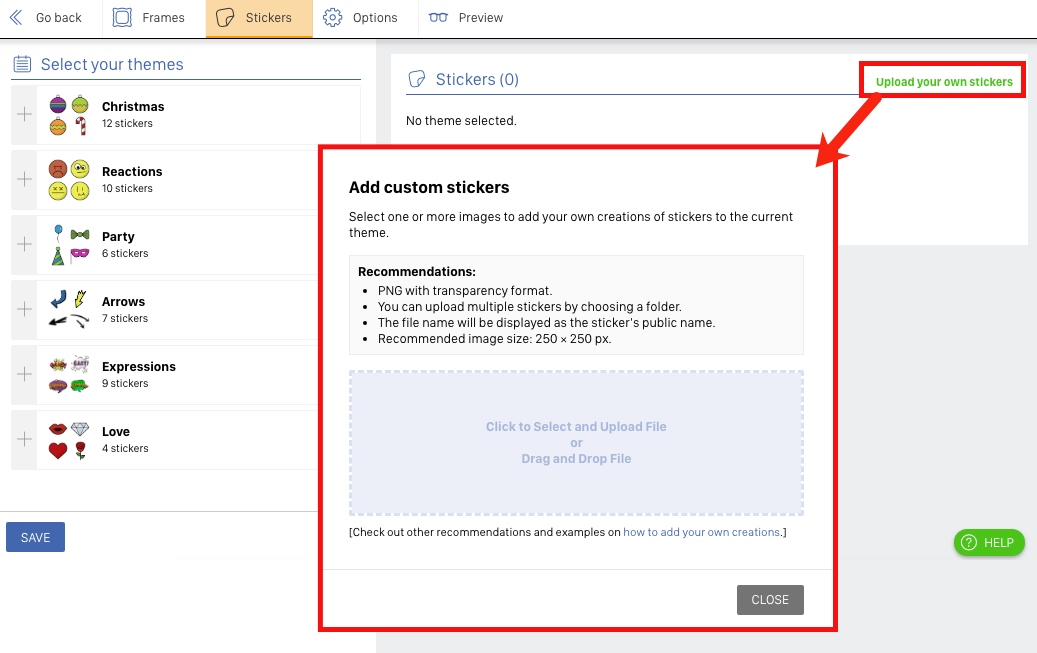 Top tip! We recommend uploading transparent .png images with a white border. This sticker format is optimized to integrate with images.
3. In the Frames tab, you can also add your own frames. Click on the green Upload your own frames text.